Question
Akshat walks 10 m towards north. From there he walks 6 m towards south. Then he walks 3 meters towards East. How far and in which direction is he with reference to his starting point ?
Soln.
Ans: c
Suppose, Akshat, starts from O and walks 10 m north and reaches E. From E, he turns back, and walks 6 m south, and reaches F. From F he turns towards G and walks 3 m and reaches G.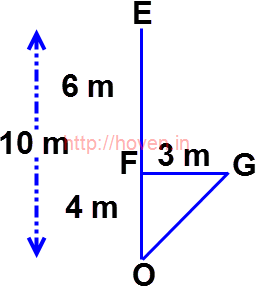 OGF is a right angled triangle. If two perpendicular sides are 3 and 4, then the slanting side is always 5. So OG = 5m. The direction is North-East.
---