Question
Statements: Some watch are LCD. No LCD is a laptop. Some fridges are watch. Some watch are laptops.
Conclusions:
Some fridges are laptops.
No LCD is a fridge.
Laptops are either fridges or watch.
No laptop is a fridge.
C
Only either I or IV follows.
Soln.
Ans: c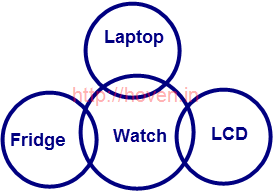 I and IV are mutually exclusive, i.e., one of them has to be true.
---