Question
In the given diagram the circle stands for "educated", square for "lazy", triangle for "urban" and the rectangle for "honest" people. Different regions in the diagram are numbered from 2 to 13. Study the diagram and choose the correct answer.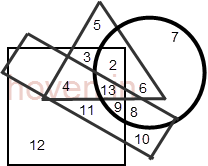 Lazy, non urban people who are neither educated nor honest are indicated by
Soln.
Ans: b
12 is inside the square but outside every else figure.
---